The 2017 Eclipse Across America is this Monday
Solar eclipse will be the first coast-to-coast since 1918
What you need to know about the Great American Eclipse
On Monday, August 21, all of North America will be treated to an eclipse of the Sun, which will be visible from coast to coast.
While the optimal places within the path of the eclipse are in the middle of the country, from Salem, Oregon to Charleston, South Carolina, the tri-state area will still have a great partial eclipse view.
The partial eclipse will begin to be seen in this area around 11:45 a.m. and continue until about 5 p.m., with the maximum eclipse at about 2:25 p.m., according to timeanddate.com.
This is the first total eclipse of the Sun visible from the United States (excluding Alaska and Hawaii) since February 26, 1979, and the first time a total eclipse will be visible from coast to coast since June 8, 1918.
After the 2017 solar eclipse, the next total solar eclipse visible over the continental United States will be on April 8, 2024.
Great places to view the solar eclipse are clear spots with a good view of the sky. Think parks, observatories or high elevations. For example, maybe the Hawk's Nest in Port Jervis or Perkins Memorial Tower at Bear Mountain State Park.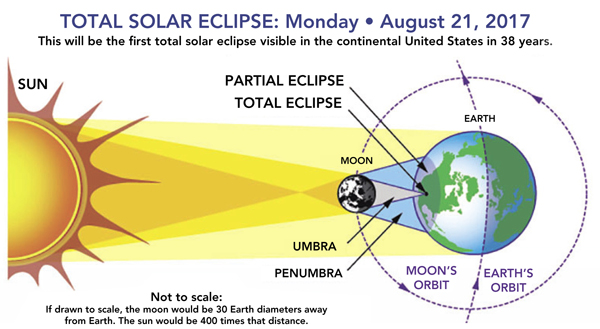 Diagram showing the Earth-sun-moon geometry of a total solar eclipse. Photo courtesy of NASA.
Local Solar Eclipse Events
If you're looking for a place to view the eclipse, check out these local events:
Solar Eclipse Party & Live Stream at Warwick Library
August 21, 2017, 1 p.m. to 4 p.m. at Albert Wisner Public Library, 1 McFarland Drive, Warwick, NY 10990
Live NASA Video Streaming in the Community Room: Noon to 4 p.m. Viewing Party on the Lawn: 1 to 3 p.m.
We invite you to join us at the Library to watch this celestial show! In New York, the "show" will start at around 1:20 p.m., peaking at approximately 2:44 p.m. If the weather cooperates, we will have a limited number of solar glasses for those who wish to view the event outside. Glasses will be distributed on a first-come, first-served basis the day of the event.
Bring a cereal box and make an eclipse projector!
Register at
albertwisnerlibrary.org.
Solar Eclipse 2017: The Sun in Darkness at SUNY Orange
August 21, 2017, 1:15 p.m.-4 p.m.
Middletown campus: Sandra and Alan Gerry Forum room 010, Rowley Center for Science and Engineering, 115 South Street, Middletown, NY 10940
Newburgh campus: OCTC Great Room 101, Kaplan Hall, 1 Washington Center Newburgh, NY 12550
In Orange County, a 70 percent eclipse of the sun will occur. The time of the peak is 2:43 p.m. However, it will start at 1:21 p.m. and end at 3:58 p.m. Because the eclipse develops at the time of day when it normally is brightest, the gradual darkness will be obvious.
Astronomy professors William Istone, PhD and Tom Blon, MA are celebrating the event on the Newburgh and Middletown campuses, respectively, by setting up the large telescopes equipped with sun filters. In addition, eclipse safety glasses will be provided. On the Newburgh campus come to the Green Oval outdoors at Kaplan Hall, and in Middletown come to the center of the campus, the Alumni Green.
Also, live-streaming along the swath where the total 100 percent eclipse moves will be available for viewing on nine foot screens in OCTC Great Room 101, Kaplan Hall (Newburgh) and Sandra and Alan Gerry Forum room 010, Rowley Center for Science and Engineering (Middletown), rain or shine.
Attendees may find free parking in the Kaplan Hall garage accessed at 73 First St., (GPS) Newburgh and Orange Hall lot at the corner of Wawayanda & Grandview Avenues (GPS: 24 Grandview Avenue) Middletown.
Pike County PA 4-H Club Viewing Party
August 21, 2017, 12 p.m.-4 p.m. at Matamoras Airport Park, Avenue S, Matamoras, PA 18336
The Concession Stand will be offering great solar specials, the Pike County 4H will provide materials and instructions to build a solar eclipse viewing device, and we will have live Streaming of the event projected on the big screen. Kids and adults are welcome to join us as we take advantage of the wide open spaces Airport Park has to offer for perfect eclipse viewing.
This poster was designed specifically for NASA by artist Tyler Nordgren. Photo courtesy of NASA.
How to host an Eclipse Party
1. Choose a location:
Many eclipse enthusiasts host parties in local community centers, museums, observatories, parks or open fields. Even your own backyard is a good place to throw a party. And if you want to see the total eclipse, connect to NASA's live streaming event, even hook up to a larger screen or project it onto a wall.
2. Set the stage for your eclipse party:
For food, think moon pies, sun-dried goodies, circular-shaped food like muffins or cookies, deviled eggs, crescent rolls, or pepperoni pizza. For decor, think astronomy-themed. Check out Pinterest for tons of sun and moon-themed ideas.
3. Visit: eclipse2017.nasa.gov
NASA's website also has tons of fun downloadable fact sheets, activities and posters for guests to enjoy.
4. Here's a suggested playlist:
5. Hand out eclipse glasses or encourage attendees to bring their own (B.Y.O.G.)
6. Enjoy the celestial event of the year!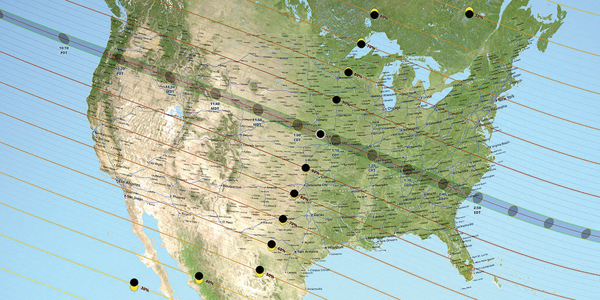 Figure 2- This map shows the globe view of the path of totality for the August 21, 2017 total solar eclipse.Photo courtesy of NASA's Scientific Visualization Studio.
EVERYONE IN NORTH AMERICA WILL BE ABLE TO EXPERIENCE THIS ECLIPSE.
This unique map shows the path of the moon's umbral shadow - in which the sun will be completely obscured by the moon - during the total solar eclipse of Aug. 21, 2017, as well as the fraction of the sun's area covered by the moon outside the path of totality. The lunar shadow enters the United States near Lincoln City, Oregon, at 9:05 a.m. PDT. Totality begins in the United States in Lincoln City, Oregon at 10:16 a.m. PDT. The total eclipse will end in Charleston, South Carolina, at 2:48 p.m. EDT. The lunar shadow leaves the United States at 4:09 p.m. EDT. A partial eclipse will be visible throughout the United States.
Lunar topography data from NASA's Lunar Reconnaissance Orbiter and the Japan Aerospace Exploration Agency's SELENE lunar orbiter were used to precisely calculate the location of the moon's shadow. Land shading is based on a global mosaic of images from NASA's Moderate Resolution Imaging Spectroradiometer, and elevations are based on data from NASA's Shuttle Radar Topography Mission. Planetary positions are from NASA's Jet Propulsion Laboratory Development Ephemeris 421.
Credit: NASA's Scientific Visualization Studio
How to view the solar eclipse
Since looking directly at the sun is unsafe, the safest way to view the eclipse is through special-purpose solar filters, such as "eclipse glasses" or hand-held solar viewers, according to NASA. Homemade filters or ordinary sunglasses, even very dark ones, are not safe for looking at the sun because they transmit thousands of times too much sunlight.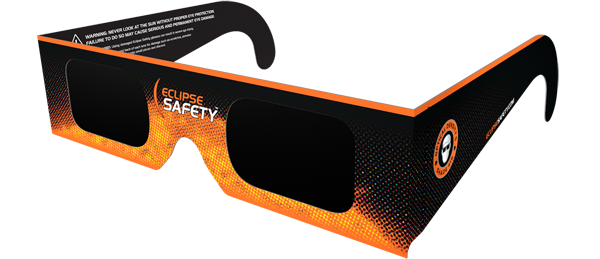 To find glasses approved for viewing the eclipse by NASA, check with local science museums, schools and astronomy clubs for eclipse glasses — or purchase an ISO 12312-2 compliant pair online.
Did you know?
If you can't get your hands on a pair of eclipse glasses, you can use a welding filter or welding goggles. Just make sure they are shade number 12 or higher. The filter can also be put in front of a camera, helping to capture the spectacular event. These can be purchased at your local hardware or welding supply store.
Live stream the eclipse:
NASA will be streaming the total solar eclipse live online. Visit:
eclipse2017.nasa.gov/eclipse-live-stream
Comments
MUST READ NEWS
VIDEOS
---